We still don't give protein the importance it has.
The recommendations (often from official organizations) are somewhat obsolete and at least unrealistic dangers are attributed to it.
Whether you want to get fitter, be more satiated, or be healthier in general, protein is key.
But how much should you take? Does it really hurt to eat a lot of protein? Am I going to get too strong if I take it? Is it bad for the kidneys?
Read this post to learn the answers to these questions, and many others.
KEYS AND MYTHS YOU SHOULD KNOW ABOUT PROTEIN
1. IS PROTEIN REALLY THAT IMPORTANT?
See if it is important that protein comes from the Greek "Proteios" which means of primary importance .
After water, it is the most abundant component of our body.
Among other functions, proteins have a structural function and help to "manufacture" cells, tissues but also hormones, enzymes, neurotransmitters...
If something is vital for so many functions, does it make sense to have enough of it?
But how much is enough? We were coming to you 😉 and that's what question 2 is about.
2. HOW MUCH PROTEIN IS ENOUGH?'
The official WHO recommendation is between 0.8-1G of protein per kg of body weight.
But more and more experts believe that this range is only suitable for sedentary people and to prevent them from having protein deficiencies. And minimum does not mean optimal.
The minimum wage today in Spain is €1080 gross in 14 payments. We are sure that you would not settle for the minimum wage (forever), why settle for a level of protein that will not allow you to have full health?
And if you already want to know what the optimal level is, keep reading.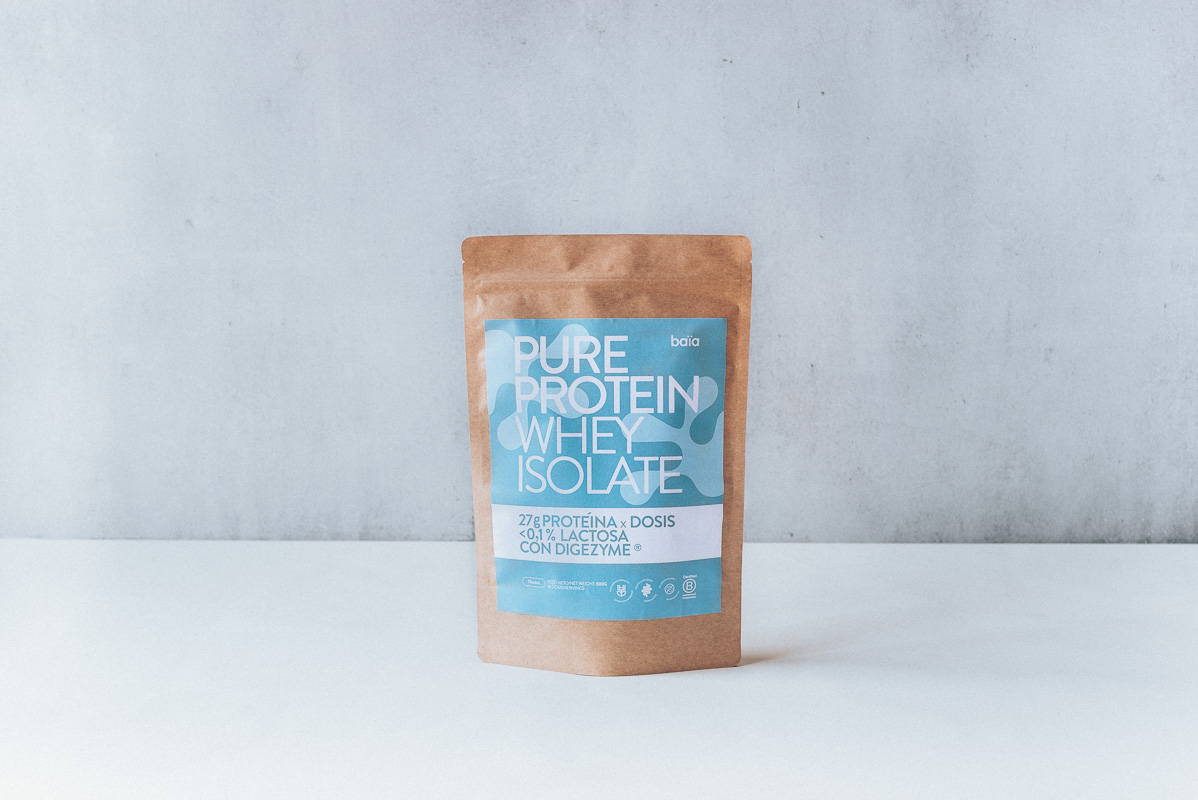 3. WHAT IS THE OPTIMAL LEVEL OF PROTEIN?'
Most experts already agree that the WHO recommendations are insufficient. 1.5g per kg of body weight would be more accurate and if you do sports it is better to stay in the range between 1.5 - 2g per kg of body weight.
That is, if you weigh 60kg, you should take between 90 and 120g of protein per day.
And here you must keep in mind that 100g of a protein food is not 100g of protein.
For example, 100g of chicken breast is about 21g of protein, the breast is also composed of water, fat...

4. BUT IF I DON'T DO MUCH SPORTS, IT'S NOT THAT IMPORTANT TO ME, IS IT?'
Mistake.
We have already told you that protein has many functions, not only is it key to building muscle (which also):
It accelerates metabolism

, as it helps increase and preserve muscle mass and muscle is a tissue that consumes a lot of energy at rest. So even if you don't want more muscle, maintaining what you have helps you not gain weight.

It helps us feel more energetic and have more strength and performance in sports and daily life.
Protein participates in countless reactions in the body and having an optimal level makes our body function better, at the immune and hormonal levels...
5. IT IS KEY TO LOSING WEIGHT
Current evidence shows that if you want to lose weight the key is to burn more calories than you eat, making sure you get enough protein.
You can choose to eat more fat or more carbohydrates but what cannot be missing is protein. In addition, the protein digestion process is the one that uses the most calories compared to carbohydrates and fats.
And to top it all off, it is very satiating, which will help you not feel hungry every few hours.

6. DOES NOT DAMAGE THE KIDNEYS
When you start eating more protein your kidneys adapt and can grow, but this does not mean it is bad.
In the same way, if you start running regularly, your heart becomes stronger and you need fewer beats per minute.
This review of studies concludes that a high protein diet is not harmful to the kidneys.

7. CAN I REACH THE OPTIMAL LEVEL WITH DIET ONLY?

You can, but taking the example we have given above:
If you weighed 60kg and did some sports, you would need between 90-120g of protein a day. 90g would be equivalent to about 450g of chicken breast.
Ok, you're not going to eat just breast, and it's all day long, but this perhaps gives you an idea that reaching the optimal level is not easy.
Even more so today when we live in such a hurry, with no time to cook.
This is where protein supplements are of great help.
Maybe you've heard everything about them: that they are pure chemistry, that they are only for people who work out in the gym...
Nothing is further from reality.
Let us tell you that specifically Whey Protein is more of a food than a supplement . But we will tell you this in a next email, as long as you are on the Priority List of our Pure Protein Whey Isolate.
And if you have any doubts, we read you in the comments!
---
← Older Post Newer Post →
---
13 comments
---