In this article, we tell you everything about intolerances:
Are they common, or are they just normal? Are they chronic or can the symptoms improve? What should we not do if we suffer from them, and what can we do to improve them?
Surely you have heard about food intolerances, or you yourself suffer from them.
Let us tell you a little more about the most common ones, what their origin may be and if there is a solution beyond avoiding certain foods forever.
1. WE MUST DISTINGUISH VERY WELL THE DIFFERENCE BETWEEN AN INTOLERANCE AND AN ALLERGY.
A food allergy is much more serious, it involves the immune system, which overreacts by detecting this substance as something harmful (allergen), when in reality it is not.

A food intolerance is the body's inability to properly digest a certain food. Although it can cause very annoying symptoms, the consequences are less serious than those of an allergy.
But... Why is our body not able to digest food correctly?
In most cases it is due to the lack of a digestive enzyme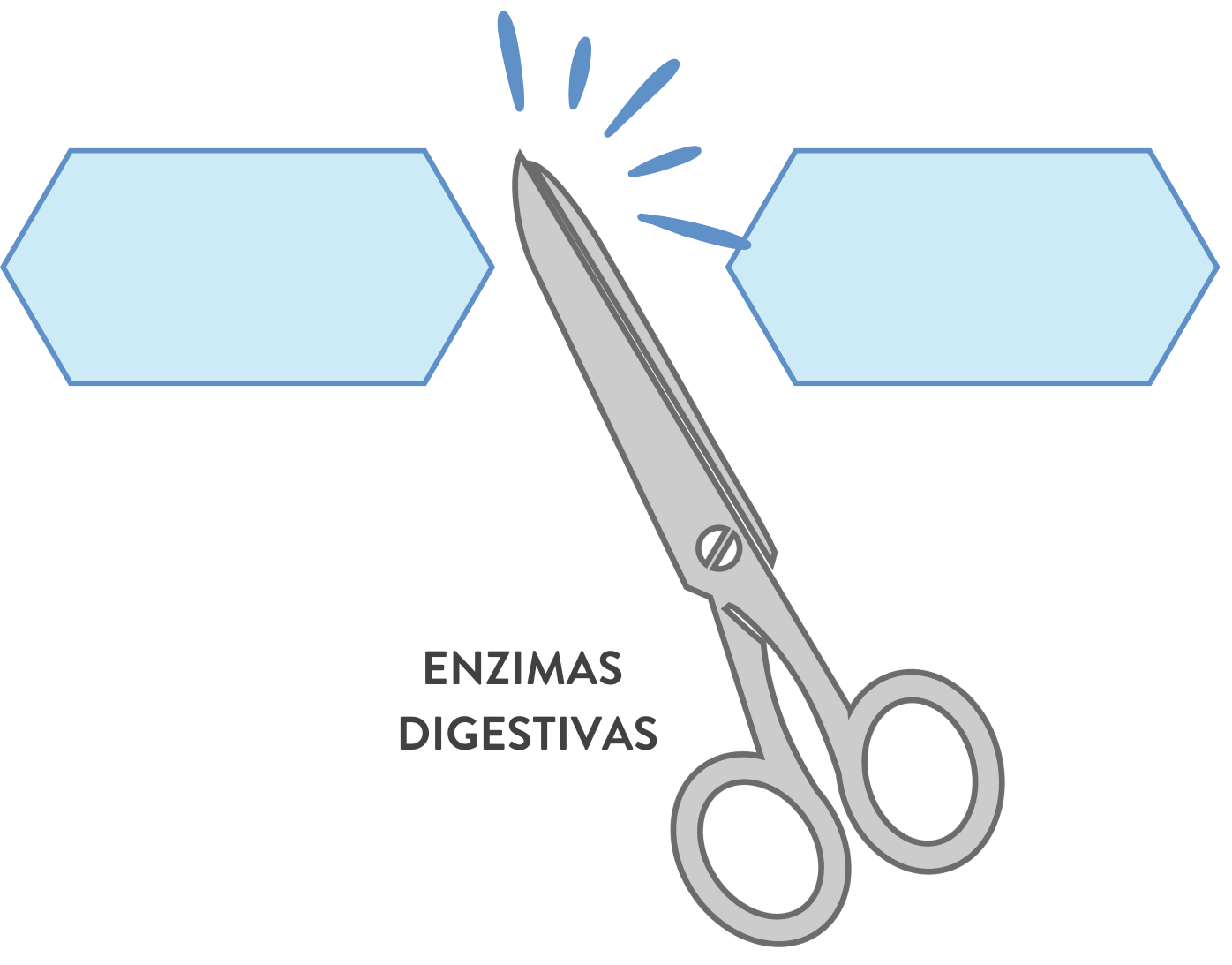 Digestive enzymes are a kind of 'scissors' that break down food in order to assimilate it. In its absence , food is not digested or absorbed correctly, and travels to the large intestine, where it ferments and produces uncomfortable symptoms .
Unfortunately, this is quite common, but we shouldn't normalize it. You must always treat the origin, not just the symptoms.
In the long term, this situation worsens, giving rise to new intolerances and can end in a diagnosis of a digestive disorder associated with dysbiosis: for example, irritable bowel syndrome.
If you suffer from an intolerance, it is most likely that your microbiota will be affected, and this may be the origin or one of the main factors of the problem. It is necessary to 'repair' your intestine and your microbiota to solve it.
2. IT IS IMPORTANT THAT YOU KNOW THAT INTOLERANCES CAN BE IMPROVED. THE MOST COMMON ARE INTOLERANCE TO LACTOSE, FRUCTOSE AND SORBITOL.

Despite being so common, their approach and certain alternatives are not the most appropriate to treat them.
Lactose, fructose and sorbitol are other intolerances, which, when not absorbed correctly, travel to the colon and ferment there, producing gas and uncomfortable symptoms. Since the enzyme that digests lactose is produced in the small intestine, and fructose and sorbitol are absorbed there, it is common that these intolerances are caused by problems located in the intestinal epithelium, as we will review.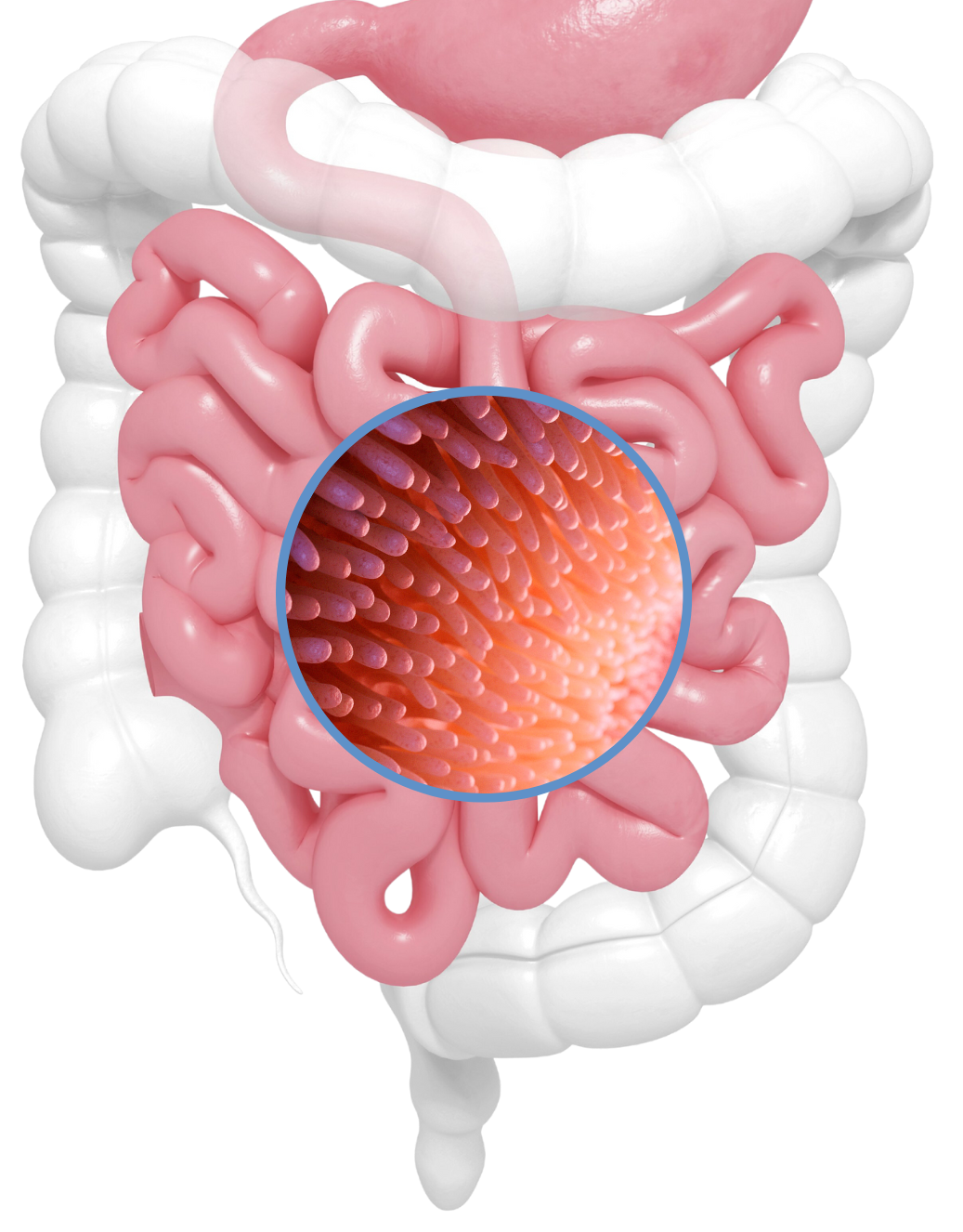 These intolerances are also usually associated with SIBO (bacterial overgrowth in the small intestine), and we are going to explain why.
When 'bad' bacteria grow, they can cause excess inflammation and damage to the gut wall. The most superficial part of it (the epithelium) has a kind of 'hairs' (imagine those on a paintbrush), which not only help with the absorption of nutrients, but also produce digestive enzymes! (the scissors we talked about).
When this epithelium is damaged (the hairs on the brush break or deteriorate), the absorption of nutrients and their digestion can be affected, leading to intolerances.
In short: what we are not able to absorb where it should, ferments where it should not.
To solve this problem, one of the specialists' preferred options to do so is the low FODMAP diet.
These acronyms refer to different foods that are fermentable: Oligosaccharides, Disaccharides, Monosaccharides and (And) Polyols. In summary, foods that can pass through the small intestine without being absorbed, and therefore fermented in the large intestine (colon), are excluded from the diet.
3. SO... DOES THE LOW FODMAPS DIET SOLVE INTOLERANCES?

Well, not exactly, and we explain it to you below.
The low FODMAP diet restricts foods that can be fermented, and therefore symptoms can improve a lot (and very quickly) because we eliminate the raw material that forms gases in our colon.
However, this strategy has its risks, especially if it is not done by an up-to-date specialist. Removing foods based on a list, although they feel good to us, will impoverish (a lot!) the diversity of our microbiota. And this can make the problem more serious.

Let's give an example to understand it:

I have an aquarium, in which I have two types of fish: some are beautiful in color, and others are very ugly and aggressive.
When dysbiosis exists, these 'bad' fish grow too large, and eat the precious goldfish.
So, I decide not to feed those fish anymore for a couple of months. To none of them. What will happen during those weeks?
Well, many will not survive. But not only the fish that I don't like, the same thing will also happen with the ones that were beautiful and colorful.
The same can happen in your intestine.
Some species are key when it comes to digesting nutrients, so perhaps when you want to eat certain foods again, they will make you feel worse.
The FODMAP diet must be reviewed and followed by a specialist; it has very marked phases that must be strictly respected.
4. WE HAVE GOOD NEWS: THERE ARE WAYS TO FEED THOSE BEAUTIFUL FISH, AND HUNG THE UGLY FISH.

This can help solve dysbiosis, and repair your intestine.
This can be achieved by modifying the diet progressively.
To summarize and give an example, it is known that foods with fiber modify the microbiota towards a profile associated with health. It is as if we were feeding the 'precious and good fish'.

Science also tells us that when there is, for example, irritable bowel syndrome, the use of soluble fiber and specific probiotics (such as Microbiotic Creamer) improves the symptoms, and even increases the effectiveness of a pharmacological treatment.
Making profound changes in your diet and slowly tolerating different foods rich in fiber can help you make a change in your microbiota profile and improve symptoms.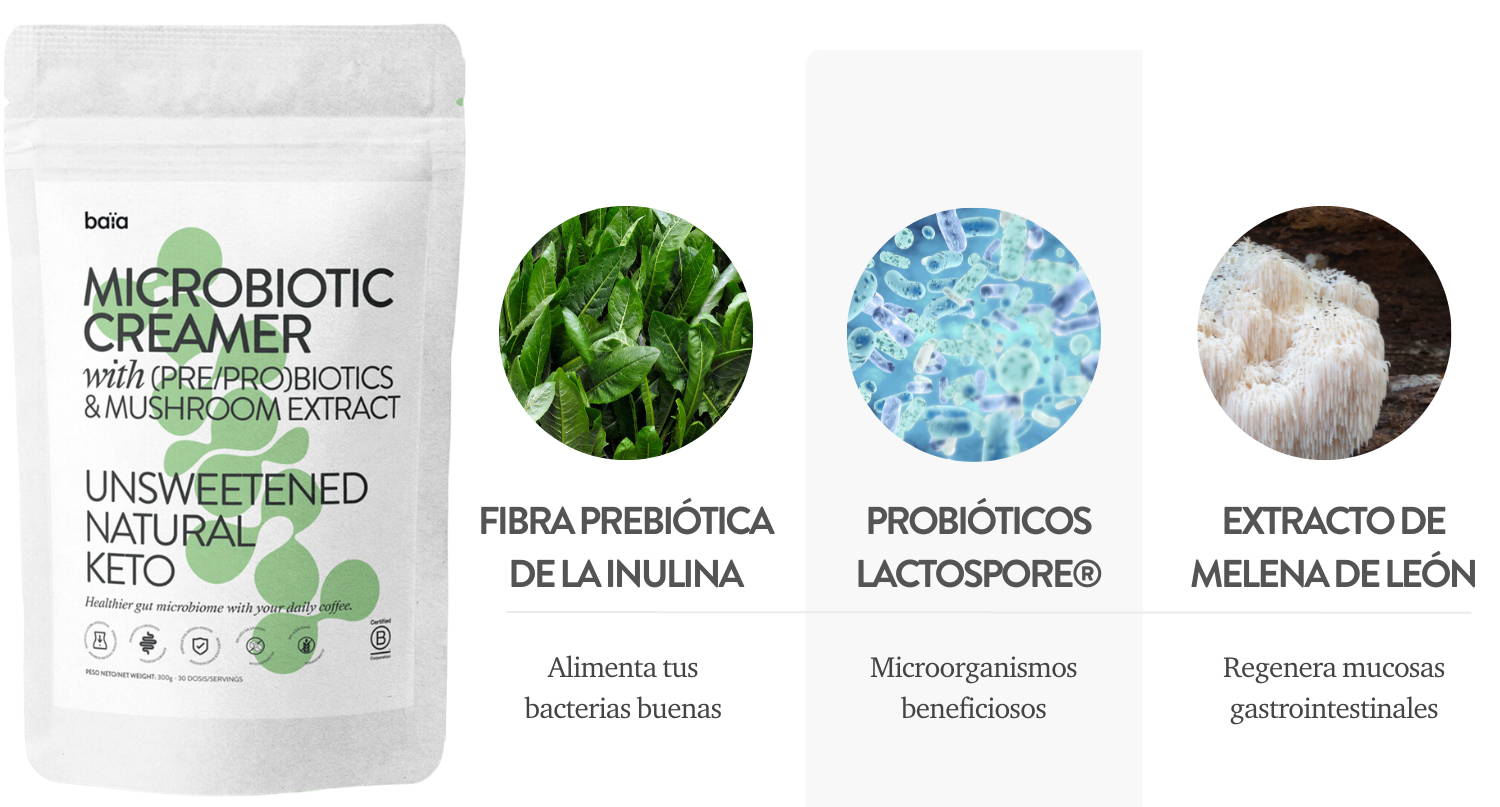 This product contains inulin, a very special type of soluble fiber that has been shown to improve peristalsis and constipation, even in patients with Irritable Bowel Syndrome!
The soluble fiber linked to lion's mane will help with inflammation
If you have fructose intolerance, can you take Microbiotic Creamer?

 
To determine if you can consume Microbiotic Creamer, it is important that you first obtain a clinical diagnosis. If you really suffer from fructose intolerance, Microbiotic Creamer may not be suitable for you, as it contains inulin fiber that is hydrolyzed in our body into oligofructose, which you may not tolerate correctly (as do many other dietary fibers). ). Probiotics can be very helpful in improving symptoms.
Likewise, a low FODMAP diet can help you, but it is essential that it be supervised by a health professional. These diets must be followed for a certain period, after which you should try to return to a balanced diet, where prebiotic fiber plays a key role. If you are following a low FODMAP diet, we recommend that you consult with your dietitian or nutritionist before starting to take Microbiotic Creamer.
Finally, if you have very bothersome symptoms, gradually incorporate the Microbiotic Creamer, making sure to increase your water consumption a little more. Start with a scoop (or half), and you can separate the shots.
When you tolerate it well, remember that the treatment time is one scoop a day for 2-3 months. You can read more about their scientific evidence here.
If you want to know more about healthy eating for your microbiota, let us know!
---
← Older Post Newer Post →
---
1 comment
---