SUMMER IS FOR RELAXING AND RESTING BUT, WOULD YOU LIKE SOME TIP TO RELAX AND REST MORE THAN EVER?
One thing is clear: summer is for resting, for forgetting about everything.
Nothing like being on the beach, feeling the sea breeze and enjoying an ice cream. And let the world end.
Perhaps you are already one of those who know that it is very easy to make those ice creams in a healthy way.
But maybe you haven't heard about adaptogens. They are plants and roots that help us reduce physical and emotional stress.
More and more doctors and nutritionists recommend them. Simply because they work.
One of the best known is ashwagandha, already used by Ayurvedic people in India for all its properties. Keep reading, you'll be amazed.
Ashwagandha is a plant that grows in India, the Middle East, and parts of Africa.
It is commonly used to treat stress and anxiety. It is also used as an "adaptogen" to treat many other conditions.
If you have been following us for a long time you will know that we love this plant.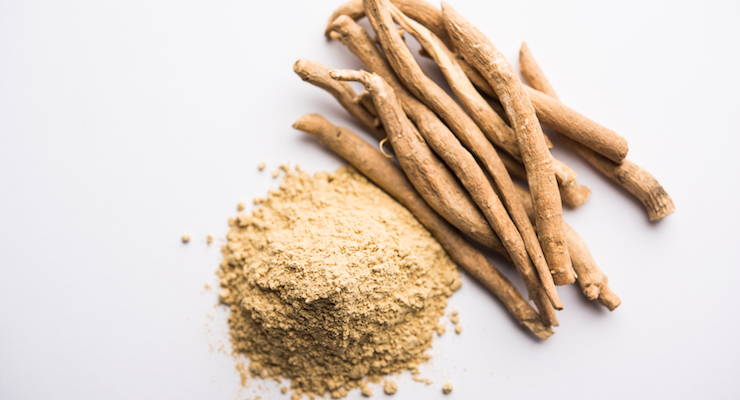 BENEFITS OF CONSUME ASHWAGANDA
Some of the benefits that ashwagandha (specifically its KSM-66 extract) has shown in clinical studies are:
- Reduce stress , anxiety, cortisol levels and stress-related food cravings ( study )
- Improves sleep In a recent 2019 study (you can check it here ) it was observed that ashwagandha can be an excellent supplement for people suffering from insomnia, improving the quality of sleep and their quality of life.
- Reduces fatigue (study)
- Improves memory, productivity and cognition ( study )
- Improve sexual performance and desire in men and women, and testosterone in men.
If you are a woman, you may be interested to know that in a trial, the group of women who consumed ashwagandha showed greater sexual desire, libido, and greater ease in reaching orgasm (study ).
And if you are a man, there is also good news : increases of up to 17% in testosterone have been found in the control group that consumed ashwagandha ( study ).
I don't know about you but to us it seems like something literally from another Planet 😳.
WHY ASHWAGANDA KSM-66 EXTRACT?
We have already told you about ashwaganda, but what is 'ashwaganda extract KSM-66'? Well, we are going to tell you a little about the reasons behind using this extract.
The ashwagandha extract KSM-66 comes from the root of the plant and the one that has shown the most evidence in scientific studies.
KSM-66 and its manufacturing have gone through very extensive safety and quality inspections and evaluations in our industry for the labels of GMP (USP, NSF, NPA-UL, WHO), 100% USDA Organic, Non-GMO (Non-GMO Project Verified ), Gluten Free (by GFCO), BSCG-drug free, Kosher, Halal, HACCP and others.
The vast majority of ashwagandha extracts on the market use hydroalcoholic extraction .
A consequence of this is that it omits certain components of the raw root and is therefore less beneficial than the KSM-66 extract.
The second consequence of hydroalcoholic extraction is that the residue is bitter and requires additives to mask that taste when used in foods.
In contrast, KSM-66 has a neutral flavor and can be more easily incorporated into foods.
For all this we decided to use this extract in Baïa.
In summary, these are the main reasons why KSM-66 ashwagandha extract is a better choice:
- Has the highest concentration of all the major root extracts available on the market today.
- It has the highest bioavailability .
- It has a neutral flavor , unlike other Ashwagandha extracts that have a rather bitter flavor, which makes it an excellent option to combine in our Natural Balance with cocoa, maca and carob.
NATURAL BALANCE: YOUR PERFECT ALLY AGAINST STRESS.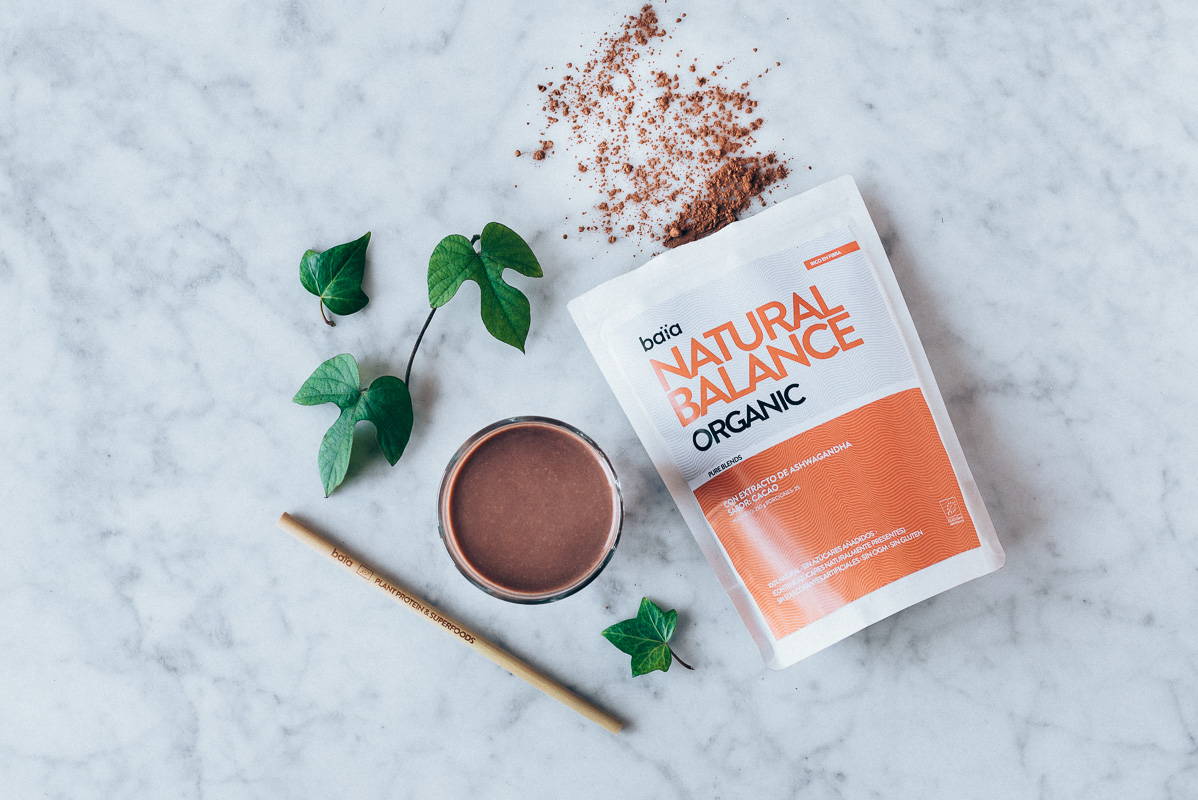 Maybe now you understand all the positive comments about our Natural Balance in which we included KSM-66 ashwagandha extract. 90% of the opinions are 5 stars 🥳✌️
Our blend also contains maca powder , a Peruvian root cultivated for more than 1800 years. To these two adaptogens we have added cocoa and carob so that you can enjoy their benefits with an exquisite cocoa flavor.
Many different recipes have been prepared with our Natural Balance, but none like the one we made together with our great friend Roberto, better known as Chef Bosquet. We decided to go one step beyond 'healthy' ice creams and decided to create ice creams 2.0.
These ice creams, in addition to having a crunchy chocolate coating with an extremely delicious and creamy flavor inside, will help you take away the stress in one bite. Because summer is here to enjoy.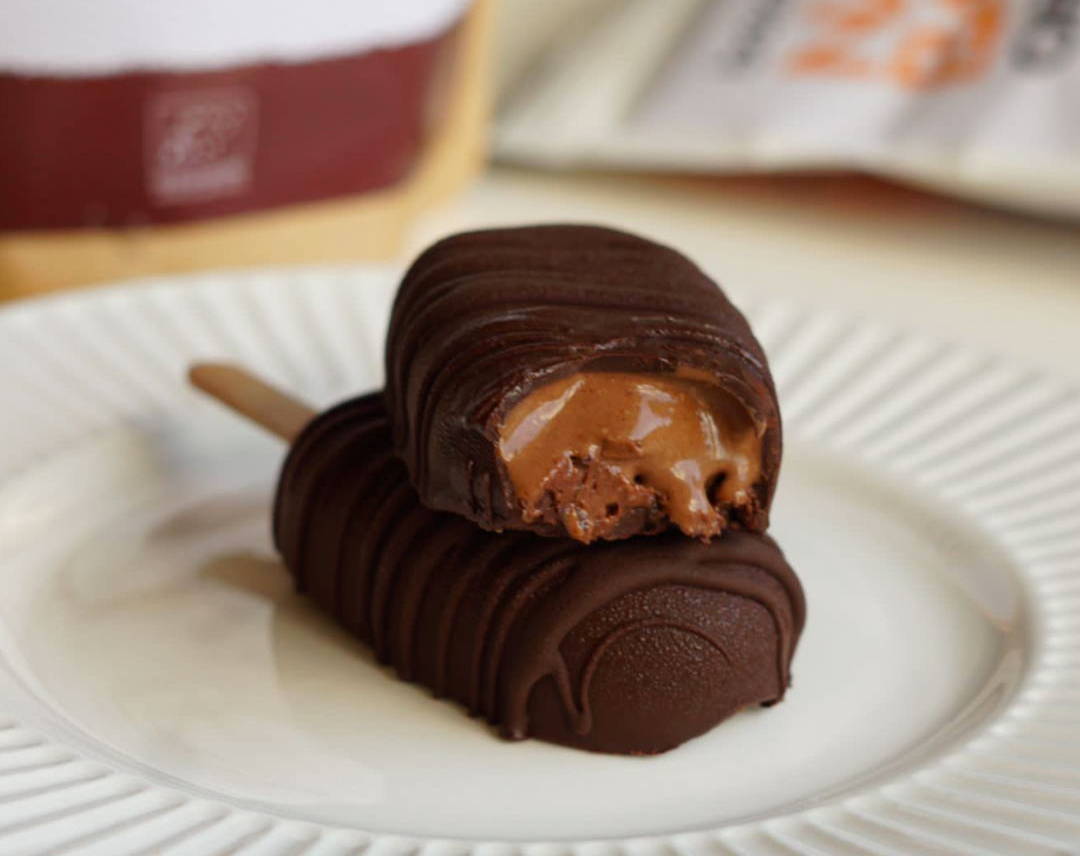 You have this recipe along with 5 more in the ebook that we give away when you buy the Natural Balance Pack.
This way you can enjoy those ice creams that you crave so much in summer without taking additives or unnecessary calories.
You will also come back more relaxed and refreshed from your vacation.
By the way, we arrive anywhere in Spain in 24-72 hours 🤙
---
← Older Post Newer Post →
---
8 comments
---