Moringa continues to grow in popularity and more and more people and organizations recommend its consumption.
Do you want to know what it is specifically? For what do you use it? What are its benefits? If you want to know everything that moringa can do for you, we will tell you everything in this post.
---
WHAT IS MORINGA? WHERE ARE YOU FROM?
Moringa oleifera, better known as moringa or Ben, is a tree native to northwest India.
It was "rediscovered" by Doctors Without Borders between 1974 and 1976 although it has been used for a long time in Traditional Indian Medicine (Ayurveda) so its benefits are ancient.
The WHO and the FAO themselves consider it as the food discovery of the 21st century and UNESCO affirms that it is the plant with the most nutrients ever seen before , and assures that it is capable of preventing more than 300 diseases and that it is the plant that can prevent the desnutrition.
---
WHAT IS IT FOR? WHAT ARE ITS BENEFITS?
First of all, you have to look at the vitamins and minerals that moringa has.
---
Perhaps you already understand why moringa is known as the Tree of Life. Thanks to its nutritional richness, it has great health benefits ( study ). Here are some specific ones:
TIREDNESS: it is a source of iron that helps reduce tiredness and fatigue. Due to its iron content, it has been used in Tanzania to combat anemia in children ( study ). In a study on rats, it was shown that those who took moringa extract were able to swim for longer ( study ).
SKIN: moringa has high vit content. A that contributes to the maintenance of the skin in normal conditions. It is also super rich in antioxidants (almost the same as matcha tea) so it helps fight free radicals and delay aging. In fact, it is already beginning to be used in facial creams ( study ).
Yes, natural and ecological are also going to prevail in cosmetics...
IMMUNE SYSTEM: being a source of iron and having a high vit content. A contributes to the normal functioning of the immune system. Its immunomodulatory effect has been observed ( study ). And there are more and more studies that support it as a powerful anticancer, by inducing apoptosis in tumor cells ( study ).
INCREASE IN MUSCLE MASS: yes, moringa is 25% protein and is also a source of complete protein with the 9 essential amino acids.
If you are looking for plant sources of protein, moringa is undoubtedly for you.
Add some moringa to your Plant Protein shake? Without a doubt a winning combination.
DIGESTION: It has a high calcium content that contributes to the normal functioning of digestive enzymes. It is also very rich in fiber, so it will help you reach the recommended daily fiber level.
ANTIDIABETIC: it has been shown to reduce blood glucose levels ( study ) and antidiabetic components have been found in it ( study ).
CARDIOVASCULAR: the plant has been shown in studies to be effective in regulating cholesterol in obese people and people with cardiovascular problems ( study )
---
In India, the leaves are usually consumed as if they were spinach or another vegetable.
You can take the powdered leaf, adding 5-15g to your favorite smoothie, milkshake or more elaborate recipes. It has a slightly spicy flavor (if it is of quality) .
Use it as a nutritional complement in your stews, as a spice or to add color to your dishes.
---
EVERYTHING SOUNDS VERY GOOD... THERE'S NOTHING WRONG?

As you have seen, moringa has a large number of properties. The big problem is that most producers subject it to thermal processes to eliminate pathogens in an easy way.
The result is that a large amount of nutrients and properties are also lost.
It has been very difficult for us (about two years) to find a supplier that, without using thermal processes, would guarantee the quality, purity and health standards that we seek at Baïa Food...but we have finally achieved it.
Our ORGANIC MORINGA comes from the Bengal region in the northwest of India, where it is originally from and we have reached an agreement to be able to carry out a small production for Spain.
The launch of the new product will be next June 13, but we advise you to join the VIP List (if you have not already done so) to be able to access the pre-sale a few days before.
Units are limited and we are already receiving reservation requests.
---
---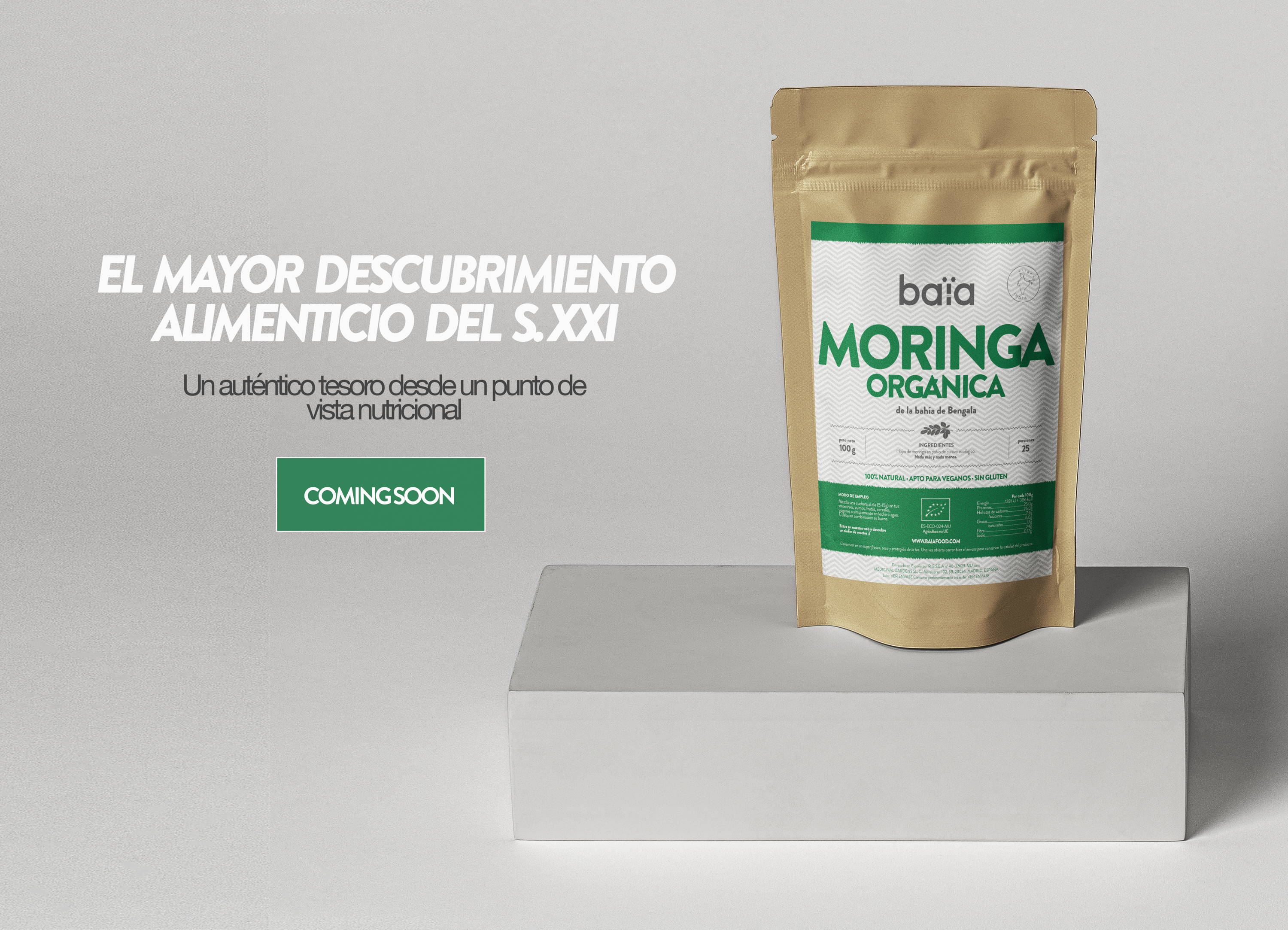 Sorry we forgot, if you have any questions or something to contribute. We read you in the comments!
---
← Older Post Newer Post →
---
11 comments
---