Surely you have heard millions of things about vegetable protein powder (and not all of them good): that it is only for vegans, that it is not complete, that proteins are for ''those who go to the gym a lot''... But, many of these statements are as absurd as saying that vegetables can only be consumed by vegetarians, it sounds absurd, right? If you want to know the truth about plant protein, keep reading! .
MAIN MYTHS AND THE TRUTH ABOUT THEM
At Baïa Food, we want to debunk some of the most frequent myths that circulate around the world of vegetable proteins, which among others are:
1. ''VEGETABLE PROTEIN IS NOT COMPLETE''.
When we talk about a complete protein source, we refer to those that have all the essential amino acids.
Let's explain this in a simple way: amino acids are small structures that make up proteins (let's imagine that they are the bricks that make them up). Our body cannot form some of those bricks from the molecules we have, but there are some amino acids (of the 9 that are essential) that are obtained through diet, we cannot make them ourselves. Plant foods generally do not have complete protein, but we can solve the problem by combining several plant sources.
In our Plant Proteins we use pea and rice protein, thus converting them into complete vegetable protein.
2. ''IT DOES NOT HAVE A GOOD FLAVOR AND ITS TEXTURE IS STRANGE''
We must give this a "little" reason, it has been a traditional problem with vegetable protein but... we have great news! After doing many tests in our R&D department we have achieved a very rich flavor and something very important to us is that the texture is very pleasant. So much so that in 2019 we won the award for the best organic free form product with our proteins at Organic Food Iberia (an award in which consumers choose the best)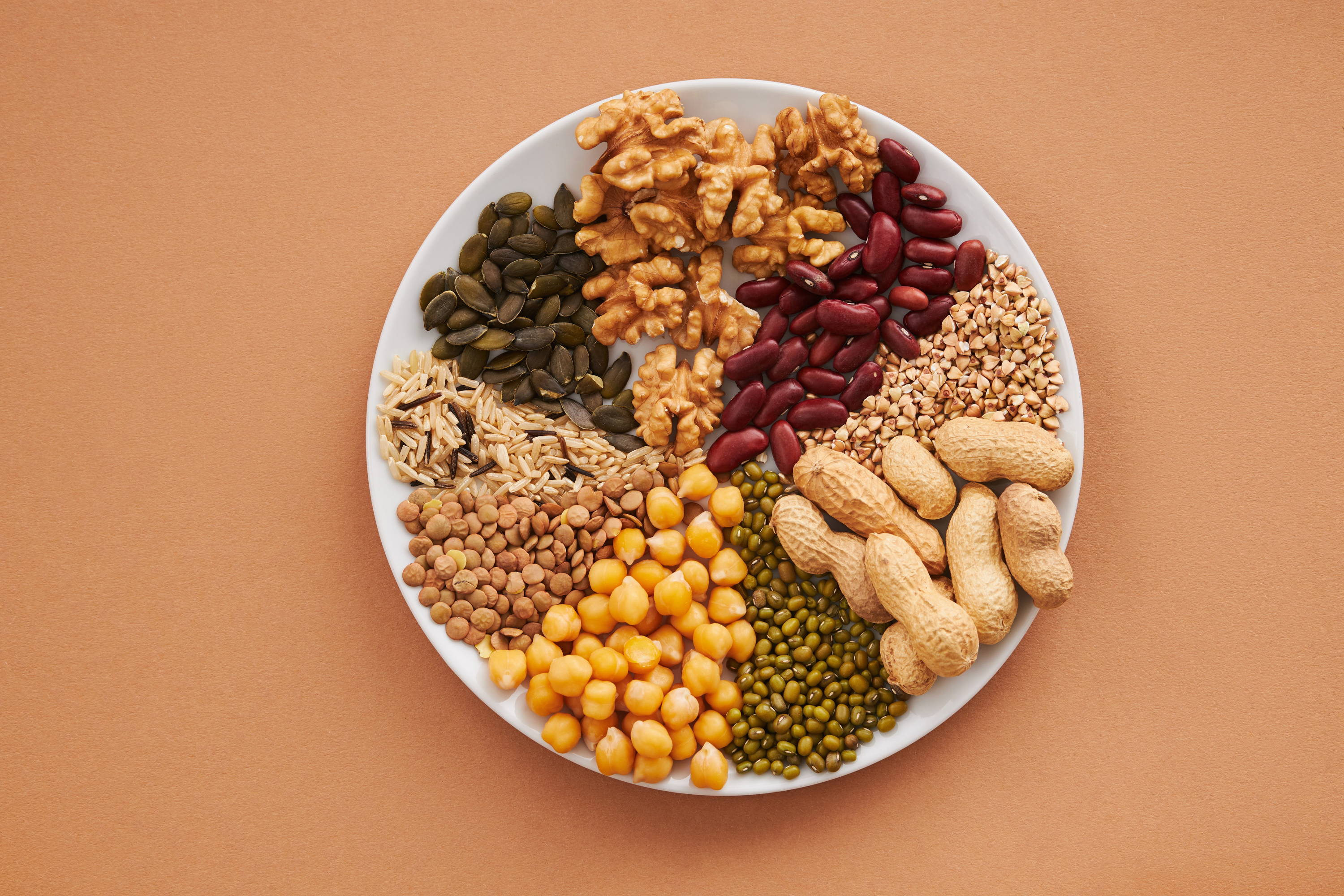 3. ''PROTEIN POWDER IS FOR GYM MUSCLES''
This is the biggest myth we find around proteins. According to the WHO, it is recommended to ingest at least 0.8 to 1 gram per kilogram of weight per day, although if you do some sports the ideal would be to consume between 1.5 and 2 grams per kilogram of weight. Therefore, muscle gain is often associated with excessively marked physiques, but nothing could be further from the truth, consuming an optimal level of protein has many benefits:
It accelerates metabolism

, as it helps increase and preserve muscle mass and muscle is a tissue that consumes a lot of energy at rest.

It helps us feel more energetic and have more strength and performance in sports and daily life.
Protein participates in countless reactions in the body and having an optimal level makes our body function better.
4. ''I'M NOT VEGAN, I DON'T NEED IT''
Traditionally, human beings could go several days without eating animal protein, for example because they could not find animals to hunt.
Furthermore, animal proteins have antigens, but... What are antigens? They are components that can provoke an immune response from our body. All animal proteins have them but this is not the case with vegetable proteins, which is why more and more experts recommend taking more vegetable protein, to be less exposed to antigens and give our immune and intestinal systems a break. Even if you are not vegan, eating exclusively vegetable protein for a few days will be very good for you, to reduce inflammation and reset your intestine.
BENEFITS OF VEGETABLE PROTEIN POWDER
As we mentioned previously, it is very difficult to reach the optimal daily protein level simply through food. Therefore, a great ally to achieve this is protein powders. The reality is that when we talk about this type of protein, the typical whey proteins usually come to mind, but many times they do not have highly recommended ingredients and many people do not agree with them. But, the good news is that we have a perfect substitute for them: Vegetable protein powders!
If we compare them with whey proteins, these are their benefits:
It does not have sweeteners (ours in particular): Most whey proteins have many sweeteners that are harmful to our intestinal microbiota, our vegetable proteins are free of them and "rare ingredients"

It is more digestive, since many people find whey protein bad because of the lactose it contains, ours is free of it.
It is a much more sustainable protein, avoiding greenhouse gas emissions and helping to stop climate change.
In our case, we enrich them with a functional ingredient such as pure cocoa (one of the brain's favorite foods, which helps protect cardiovascular health) or maca (a Peruvian root that helps combat stress, have more energy and regulate hormones in men and women.
Have you been surprised by the truth about popular myths about plant protein?
---
← Older Post Newer Post →
---
8 comments
---