It is a fact that we all want to maintain or recover the luminosity and youth of our skin. Surely you have heard about collagen and its importance in maintaining smooth and full of life skin.
But what exactly is collagen? How much do you need to take?
If you have asked yourself all these questions and want to know how to take care of your skin from within, this post is for you.
---
Collagen is a structural protein. It is present in bones and connective tissue. To give you an idea of ​​its importance, 25% of the total proteins in our body are collagen.
It is responsible for maintaining the structure of tissues and their elasticity.
Collagen is manufactured by fibroblasts, connective tissue cells that create it from amino acids (the components that make up proteins). The problem is that with age it stops producing, and our way of eating does not help its production either.
To produce collagen, these cells must have sufficient amounts of the amino acids that form it. It makes sense then to include collagen from external sources to ensure that you have enough of these components.
But there is something that most people ignore.
To make collagen, fibroblasts need Vit C. You can have a lot of amino acids available, but if you don't have enough Vit C, you won't make collagen.
Doesn't it make sense to take collagen with Vit C?
Without a doubt, but now you will discover why all collagens are not the same
---
THE UNCOMFORTABLE TRUTH ABOUT COLLAGEN
Collagen can be obtained exclusively from animal sources.
Bones, head, cartilage, generally from cows and pigs. If all this appeared on the labeling of the supplements sold, people would think twice before buying it.
Wait, don't get ahead of yourself, maybe you're thinking that marine collagen exists, which sounds great (congratulations to the marketing team of those companies) but the reality is very different.
It is obtained from the fins and bones of fish, often through practices that are not very ethical or respectful towards animals.
But what if there was a way to obtain collagen in a more sustainable way?
There is, and it can be obtained from a source that would otherwise simply be food waste.
I'm talking about collagen from the eggshell membrane.
Have you ever noticed when making a hard-boiled egg that when you remove the shell it is closely attached to a membrane that looks like skin? This membrane is especially rich in collagen, hyaluronic acid and elastin.
So can you take sustainable collagen and Vit C to boost the elasticity and luminosity of your skin?
We tell you what science says.
---
WHAT SCIENCE SAYS ABOUT COLLAGEN
The highest level of scientific evidence is a meta-analysis. Above what an independent professional or an isolated study says since this is made up of the review of many studies.
And this meta-analysis literally concludes: "Preliminary results are promising for short- and long-term use of oral collagen supplements for wound healing and skin aging."
As we told you before, apart from taking collagen, it is necessary to take a sufficient amount of Vit C. If you are one of those who need to see to believe, we also leave you with this study here.
But what if you could do something even more for the health of your skin? Wait, this is even better than you expected...
Welcome to the world of nutricosmetics.
---
NATURAL BEAUTY: THE FIRST NATURAL, ECOLOGICAL AND DELICIOUS NUTRICOSMETIC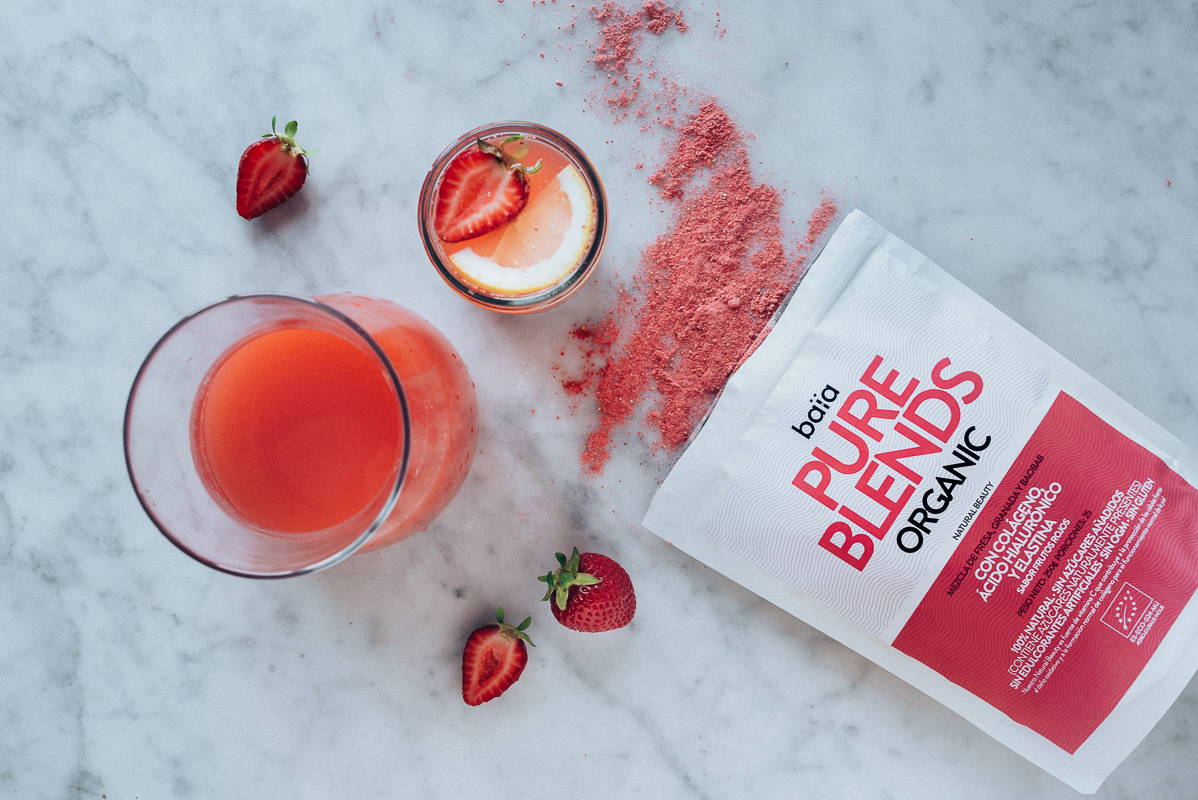 When at Baïa Food we discovered the existence of the only sustainable and ecological source of collagen, we got to work to create the best food to enhance the health of your skin.
We use EggShell Membrane (ESM) extract, which naturally contains collagen but also hyaluronic acid and elastin.
Wooow!
As a source of Vit C, our delicious Organic Baobab from Senegal could not be missing.
But we continued researching and found scientific evidence about the benefits of strawberry and pomegranate for skin health.
Its richness in polyphenols and ellagic acid helps prevent wrinkles, inflammation and skin pigmentation caused by ultraviolet rays ( study , study ).
The result has been the only product with sustainable collagen and rich in Vit C, with a delicious red fruit flavor.
You can enjoy our Natural Beauty by simply mixing 10g with water.
We assure you that it will be the best functional lemonade with red fruit flavor you have ever tasted.
Life can be wonderful.
---
As you have seen, there is nothing like this on the market.
It has been very difficult for us (many months of research and development) to find a reliable and sustainable supplier of our extract with collagen, hyaluronic acid and elastin and at the same time manage to create a truly delicious organic nutricosmetic food.
For this long-awaited launch, we have manufactured an exclusive production of 200 units that will go on sale on July 11.
If you have not done so yet , you can sign up for our VIP LIST and you will automatically access the pre-sale two days before the launch. You will also be entered into the draw for 3 units of Natural Beauty (we will announce the winners next Tuesday, July 7).
We are waiting for you inside!
PS: Do you have any questions? We read you in the comments.
---
---
---
← Older Post Newer Post →
---
18 comments
---