CAFFEINE: OUR GREATEST ALLY OR OUR WORST ENEMY?
Let's start at the beginning... when talking about caffeine, this component is often demonized, thinking that it is harmful to our health. However, recent studies have shown that moderate caffeine consumption is beneficial for our well-being, preventing respiratory, cardiovascular and infectious diseases. That is why the conception of caffeine has changed, being incorporated even (without abuse, of course) in patients with hypertension. You can find more information in this study .
In addition to the above, we also tend to have a misconception about drinks that contain caffeine, since in the eyes of many people only coffee and energy drinks have it among their ingredients, but... Did you know that like coffee, Matcha tea also has caffeine?
If you didn't know, grab a pen and paper and write down these facts that will make you a fan of Matcha:
A cup of coffee can contain between 100 and 150 mg of caffeine, while the same cup of tea would contain about 26 mg. Perhaps at this point you will think that if you want to have greater productivity you will have to drink coffee... but the truth is that Matcha has an amino acid called L-Theanine that allows your body to process caffeine differently than it would with coffee, providing a sustained energy boost, without ups and downs.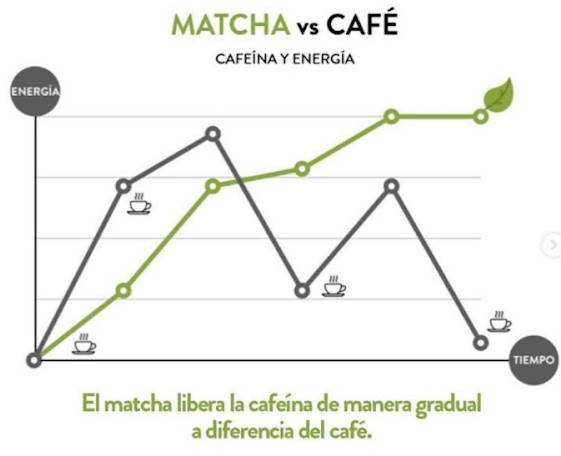 This improves our ability to concentrate since it does not cause that nervousness that you can feel with coffee. In addition to the above and unlike coffee, it has nutrients and fiber such as vitamin A and vitamin C.
If you want to know more about Matcha, keep reading!
---
WHAT DIFFERENCES ARE THERE BETWEEN MATCHA TEA AND COMMON GREEN TEA?
Green tea also has many benefits as you have surely heard, the difference between the two lies in the way of consuming it since in a common green tea we only drink the water-soluble compounds of it while the way of obtaining Matcha we obtain all the nutrients. The process is as follows: the leaves of the plant are covered for 20 days before harvesting to prevent the sun from shining on them and to increase the level of antioxidants and their green color due to the generation of chlorophyll. Once the harvest has been collected, the next step will be to boil the shoots of the plant, separate the stems and nerves and, finally, grind them in stone, thus obtaining a green powder that will not need to be infused.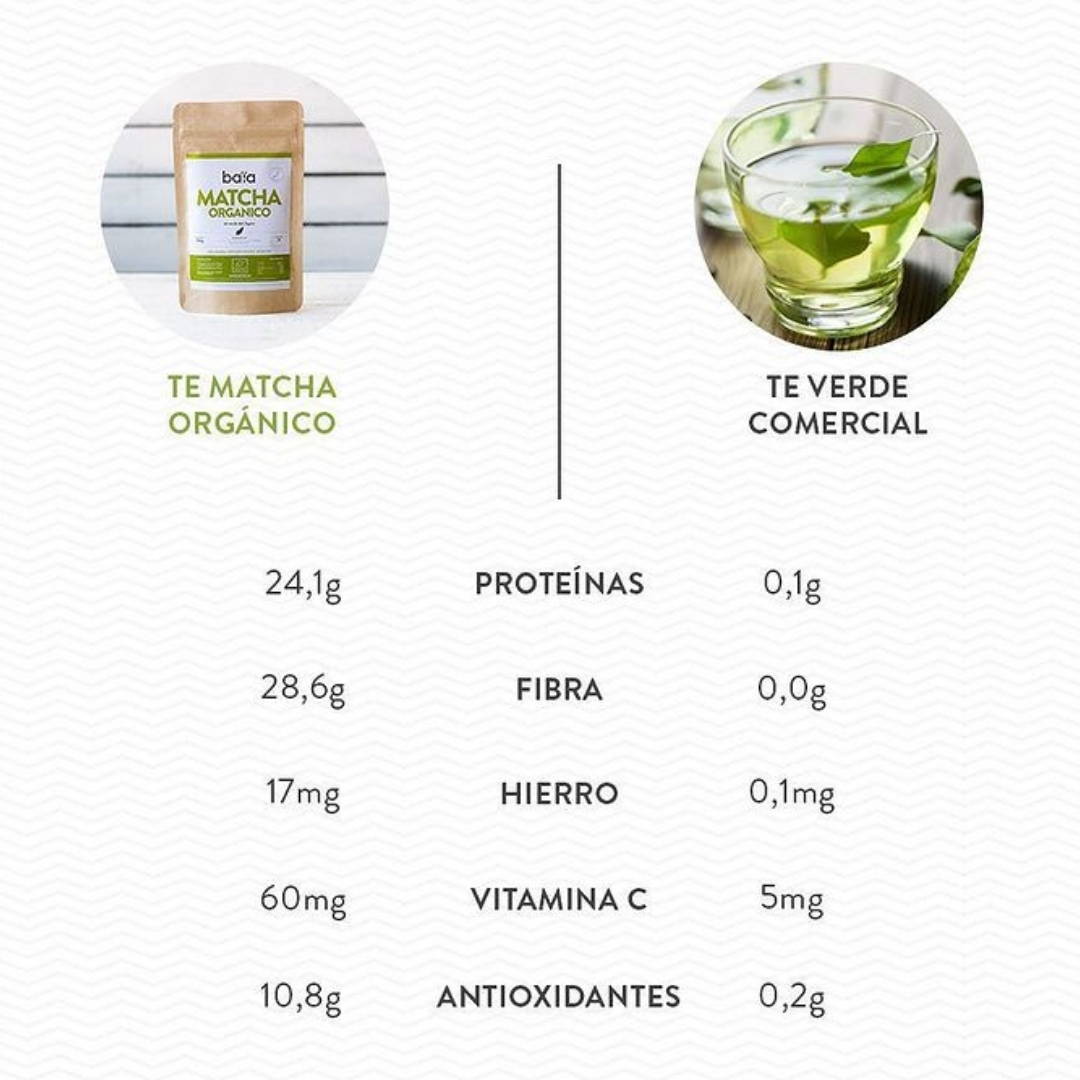 ---

SO WHAT EXACTLY IS A MATCHA LATTE?

After learning a little about Matcha tea we want to know what exactly Matcha Latte is…
Well, it's easy, it is a drink that has 99% of the benefits of Matcha tea for those who find the flavor of the latter too much . It is for this reason that, after listening to the opinion of our customers, we decided to venture into the formulation of this delicious drink. We believe it has so many benefits that everyone should be able to enjoy them: those who like the intense flavor of Matcha and those who prefer sweeter flavors.
---
PROPERTIES AND BENEFITS OF MATCHA LATTE

As we have already mentioned, the benefits of Matcha and Matcha latte are practically identical, the difference we find is due to the condensation of ingredients that in the latte version are more diluted by the presence of the coconut drink. That being said, some of the benefits are:
The caffeine in this type of tea is absorbed gradually unlike what happens with coffee: This is due to the combination of the aforementioned L-Theanine and caffeine, which will provide energy for 4 to 6 hours without the fatigue typical of stimulant drinks.
Contains more antioxidants than normal green tea: By consuming the ground leaf and not infusing it, it has 136 times more antioxidants than a cup of normal green tea.
You can read more here .
Improves cardiovascular health, memory and cognitive ability. See full study .
Helps control weight and burn fat: Matcha tea helps control weight through different mechanisms and, taken before exercise, contributes to the oxidation of fat. You can read more here .
Helps prevent arthritis : In early 2006, an article was published in the journal Arthritis and Rheumatology reporting that Washington State University in Spokane has discovered that EGCG can help relieve pain, inflammation and degeneration of the joints. joints caused by rheumatoid arthritis.
Improves oral health by reducing the amount of bacteria in the mouth, preventing cavities and avoiding bad breath. You can read more here .
It is very rich in nutrients: This variety of tea is rich in vitamins, minerals and has a very high antioxidant power.
Do you need any more reason to include Matcha tea in your daily routine?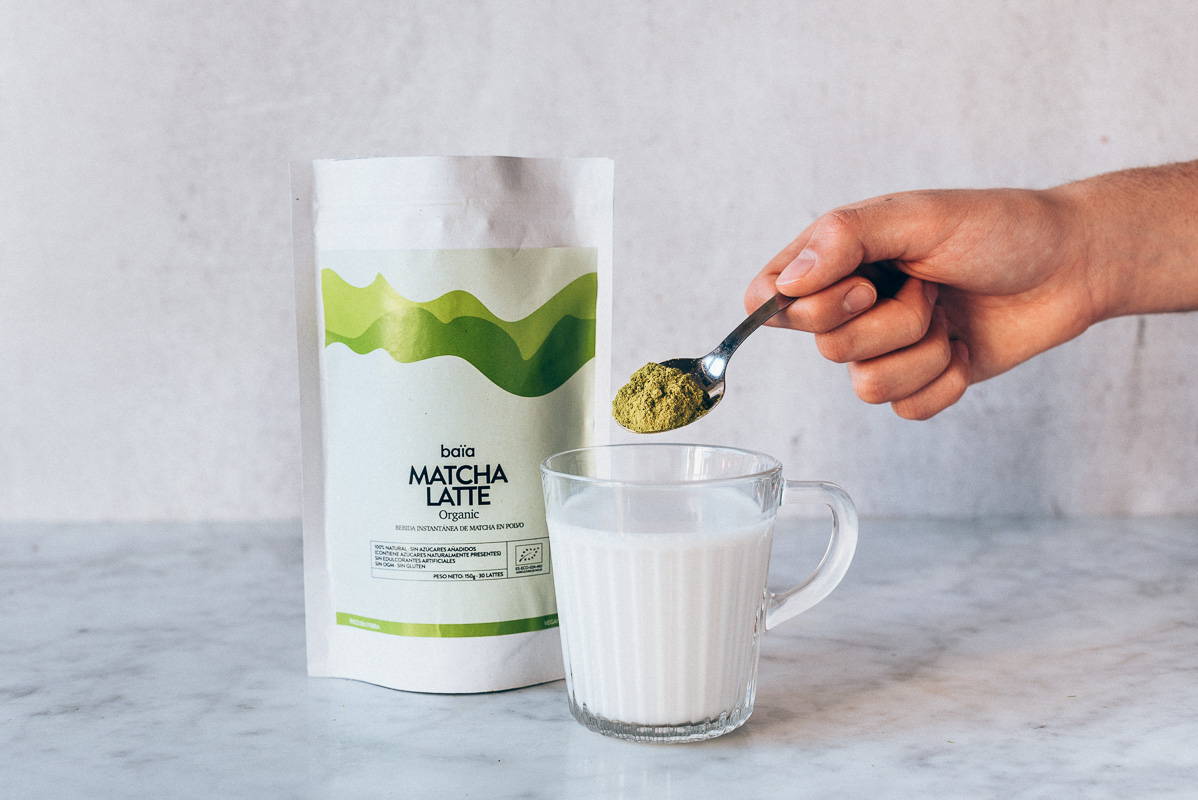 ---
MATCHA LATTE NUTRITIONAL INFORMATION

Surely many of you will be thinking, all those benefits and properties are very good but... What is its nutritional composition? Problem solved! Here you can see both the information about our organic Matcha and the Matcha latte.
NUTRITIONAL COMPOSITION OF ORGANIC MATCHA
NUTRITIONAL INFORMATION PER 100g
ENERGY VALUE 1192 kJ/ 285 kcal
FATS 3.18 g
SATURATED -
CARBON HYDRATES 21.2 g
SUGARS -
FIBER 28.6 g
PROTEINS 24.1 g
SODIUM 2.8 g
NUTRITIONAL COMPOSITION OF OUR MATCHA LATTE
Our formula contains coconut drink powder, Matcha, cinnamon powder and rice protein. All from organic farming.
The coconut drink is a source of MCTs (medium chain triglycerides), a type of healthy fatty acids that provide quick energy without generating blood glucose spikes, which activate the metabolism and accelerate fat burning. It is ideal for ketogenic diets and low carbohydrate diets. But what differentiates us from the rest? You guessed it right: plant protein!
We add protein as it helps improve body composition and is also satiating.
And the most important thing, both for us and for the planet, is that it is plant-based and organic!
NUTRITIONAL INFORMATION PER 100g PER 5g
ENERGY VALUE 1907.9 kJ/ 456.0 kcal 95.4 kJ/22.8 kcal
FATS 27.4 g 1.37 g
SATURATED 18.6 g 0.93 g
CARBON HYDRATES 31.0 g 1.6 g
SUGARS 2.9 g 0.14 g
FIBER 17.6 g 0.88 g
PROTEINS 8.4 g 0.42 g
SALT 1.0 g 0.05 g
---
START INCLUDING MATCHA LATTE IN OUR DAY TO DAY

As we have seen, Matcha latte can become the best ally of our health and not only to drink in the form of a drink, but also by incorporating it into the kitchen to take it with food or as a snack, for example. It is advisable that its consumption is not made after certain hours of the afternoon so that our body does not become altered and our circadian rhythm decreases in preparation for sleep and rest.
Who doesn't like some delicious sweet pancakes for a snack? What if we try making them with Matcha latte? They will be even richer. This is just an example of the countless recipes that Matcha latte can be incorporated into. If you dare with any, mention us on our Instagram profile. We love reading you and seeing your recipes!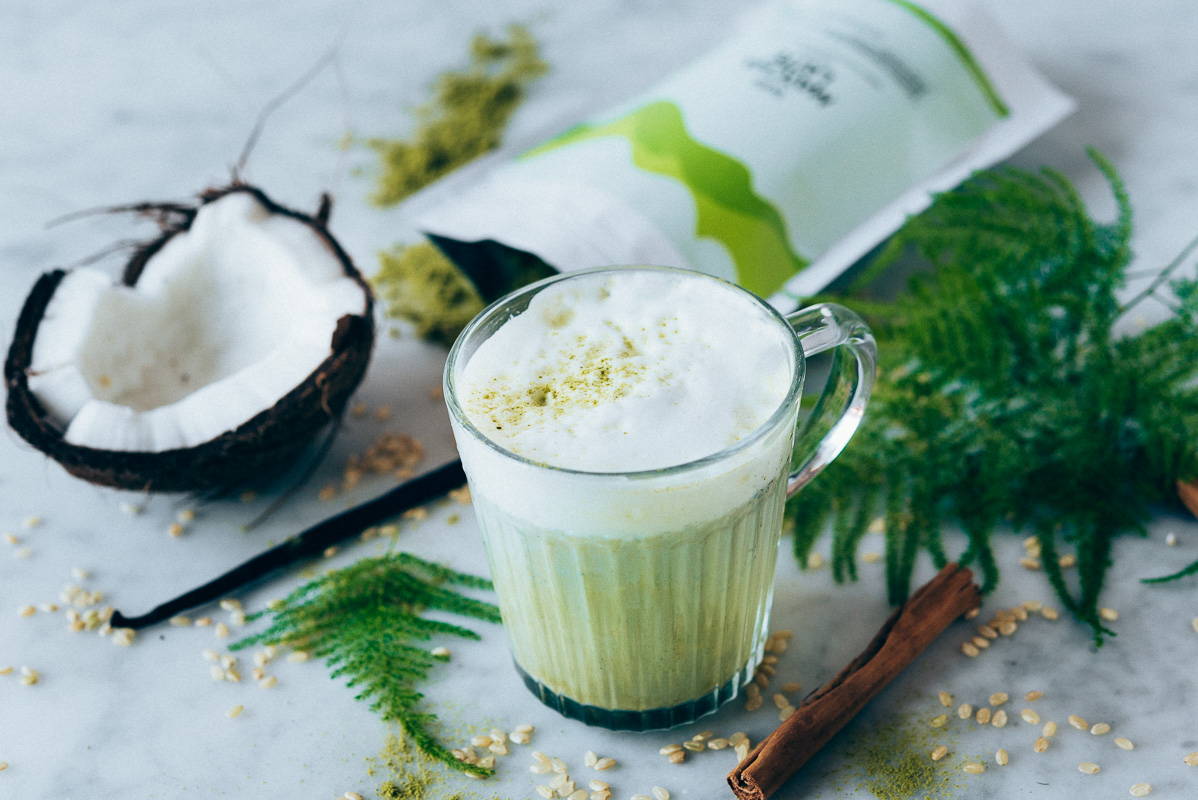 ---
WHERE TO BUY MATCHA LATTE

As you have seen, Matcha Latte is full of benefits and properties. Not only is it good for our health but it is also the drink of the moment, just enter social networks and we will see them full of ''matcha green''
The best crops of the plant from which Matcha is obtained are in Japan, where its consumption is very common. Due to the distance, sometimes transportation costs increase the price of the raw material and to keep them low, the best quality Matcha originating in Japan is not always used. However, at Baïa Food Co. we only sell Matcha latte of the best quality, with an organic seal, originating in Japan and grown under fair trade conditions.
WHERE TO BUY MATCHA LATTE IN SPAIN

If you live in Spain and are looking for where to buy quality Matcha Latte, you can place the order through our website and it will arrive at your home within 24-48 hours.
You will be able to immediately enjoy great recipes and take advantage of all the benefits of this delicious drink.
WHERE TO BUY MATCHA LATTE IN MADRID

If you live in Madrid you are in luck, in addition to the previous option you have where to buy Matcha Latte in person.
You can order your order from us (91 059 73 42) and come to our offices to pick it up from 10:00 a.m. to 6:00 p.m. Monday to Thursday, and on Fridays from 10:00 a.m. to 2:00 p.m.
We leave you a map so you can locate us more easily:
We have tried to tell you everything about Matcha and its trendy version, the Matcha Latte.
If you have read the post, and you have wanted to try it, you already know where you can find the best quality Matcha.
We would love for you to tell us your favorite recipes and if you have any questions or want to provide more information about Matcha latte or Matcha tea... WE WILL READ YOU IN THE COMMENTS!
---
← Older Post Newer Post →
---
5 comments
---